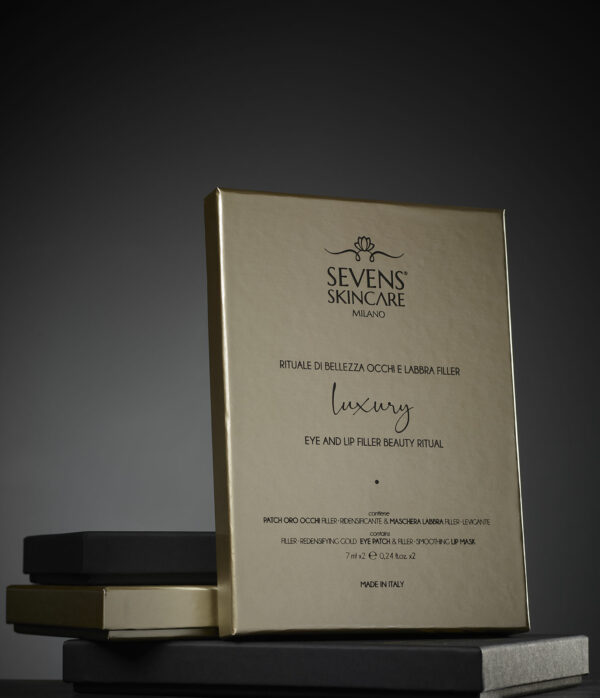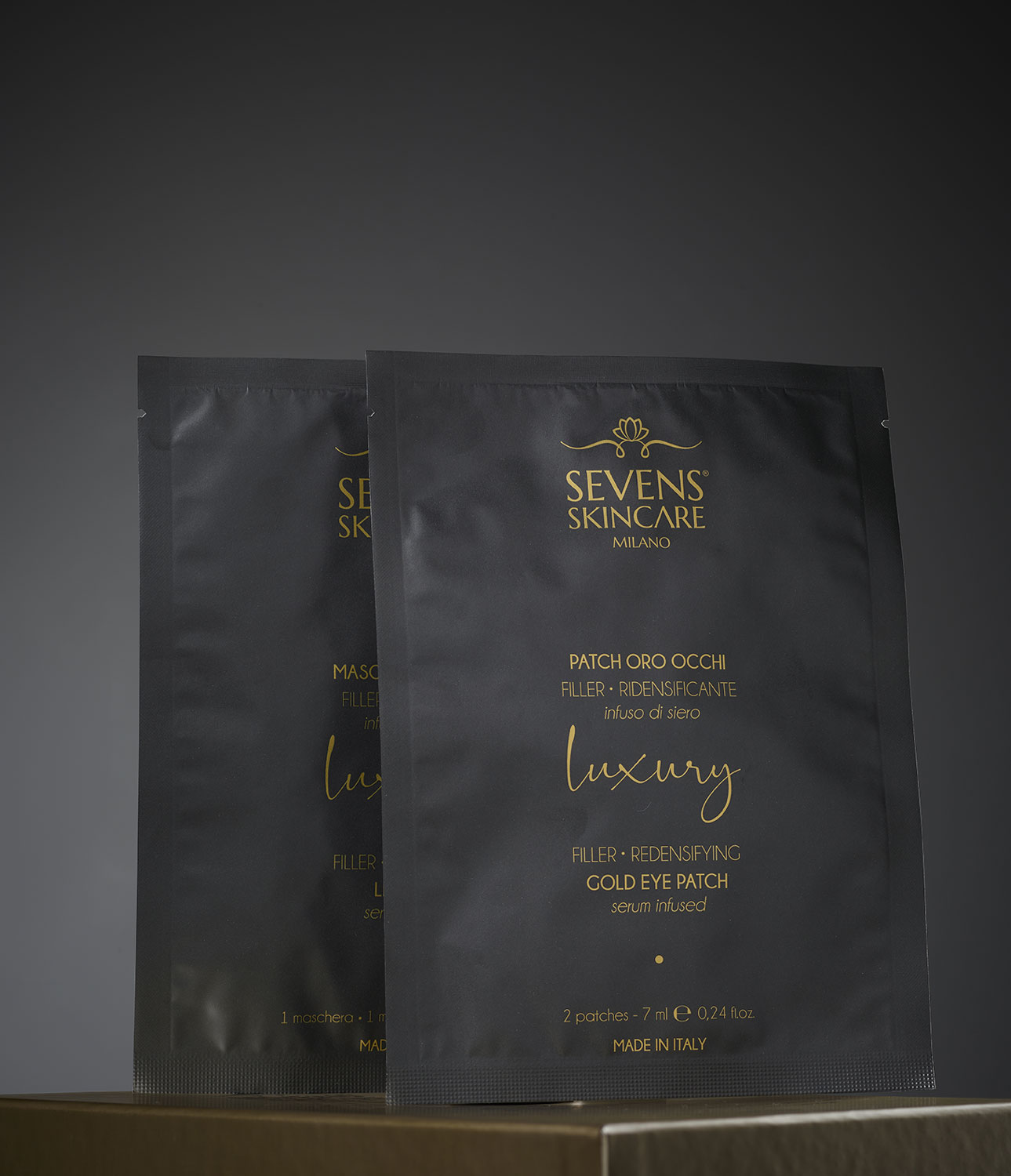 EYE AND LIP BEAUTY RITUAL FILLER LUXURY
€36.00
Contains:
PATCHES GOLD EYES FILLER / REDENSIFYING
An infusion of filler serum that awakens and illuminates the eye contour. Its formula enhanced with Hyaluronic Acid and a multi-vitamin cocktail helps to fill and minimize wrinkles and expression lines by carrying out an intense anti-aging action.
FILLER / SMOOTHING LIP MASK
An infusion of filler serum that gives the lip contour an extraordinary smoothing effect. The exclusive mix of vitamins E + C and Hyaluronic Acid helps to perform a filling and anti-aging action on the fine lines of the bar code.
7 ml x2 | 0.24 fl. Oz. x2
Apply the 2 Gold Eye Filler / Redensifying Patches on the eye area and the Filler / Smoothing Lip Mask on the lip contour and make them adhere perfectly. Leave them on for 15 minutes, remove them and massage the excess serum. Then proceed with the application of the immediate eye and lip serum from the Sevens Skincare line.
Reforcyl: balanced combination of the following active substances – GYNOSTEMMA PENTAPHYLLUM extract (a plant that grows in the Far East and is used to strengthen immune barriers and stimulate the neo-synthesis of lipids), CISTUS INCANUS (mainly its aqueous extract, very rich of polyphenols with great antioxidant and anti-inflammatory properties), and L-GLUTAMINE (powerful amino acid that acts on tissue reconstruction and aging)
Very low molecular weight hyaluronic acid : plumping, lifting, anti-aging, moisturizing
Vitamin E : antioxidant
PATCHES GOLD EYES FILLER / REDENSIFYING :
AQUA, BUTYROSPERMUM PARKII BUTTER, GLYCERYL STEARATE CITRATE, ORYZA SATIVA BRAN OIL, GLYCERIN, TRIETHYLHEXANOIN, C12-15 ALKYL BENZOATE, CETYL ALCOHOL, BEHENYL ALCOHOL, TREHALANDATE, C12-15 ALKYL BENZOATE, C12-15 ALKYL BENZOATE, CETYL ALCOHOL, BEHENYL ALCOHOL, TREHALONE, HYDENYL ALCOHOL, TREHALANDATE, HYDENYLATE OIL, CANDI-CANDY OIL CALCIUM PANTOTHENATE, PYRIDOXINE HCl, SODIUM ASCORBYL PHOSPHATE, TOCOPHERYL ACETATE, XANTHAN GUM, SODIUM STARCH OCTENYLSUCCINATE, SILICA, MALTODEXTRIN, CAPRYLYLC GLYCOL, TROPOLONE, 1,2-HEXANOLEDI
FILLER LIP MASK / SMOOTHING :
AQUA, BUTYROSPERMUM PARKII BUTTER, GLYCERYL STEARATE CITRATE, ORYZA SATIVA BRAN OIL, GLYCERIN, TRIETHYLHEXANOIN, C12-15 ALKYL BENZOATE, CETYL ALCOHOL, BEHENYL ALCOHOL, TREHALANDATE, C12-15 ALKYL BENZOATE, C12-15 ALKYL BENZOATE, CETYL ALCOHOL, BEHENYL ALCOHOL, TREHALONE, HYDENYL ALCOHOL, TREHALANDATE, HYDENYLATE OIL, CANDI-CANDY OIL CALCIUM PANTOTHENATE, PYRIDOXINE HCl, SODIUM ASCORBYL PHOSPHATE, TOCOPHERYL ACETATE, XANTHAN GUM, SODIUM STARCH OCTENYLSUCCINATE, SILICA, MALTODEXTRIN, CAPRYLYLC GLYCOL, TROPOLONE, 1,2-HEXANOLEDI